How to understand Japanese user car AA Sheet
Auction inspection sheets are the primary way to provide prospect buyers an idea of the car's condition. Without them, you would have a hard time knowing any vehicle's condition until you have your bidding agent inspect it on the morning of the auction. While inspections sheets are not always accurate, they help ease the searching process.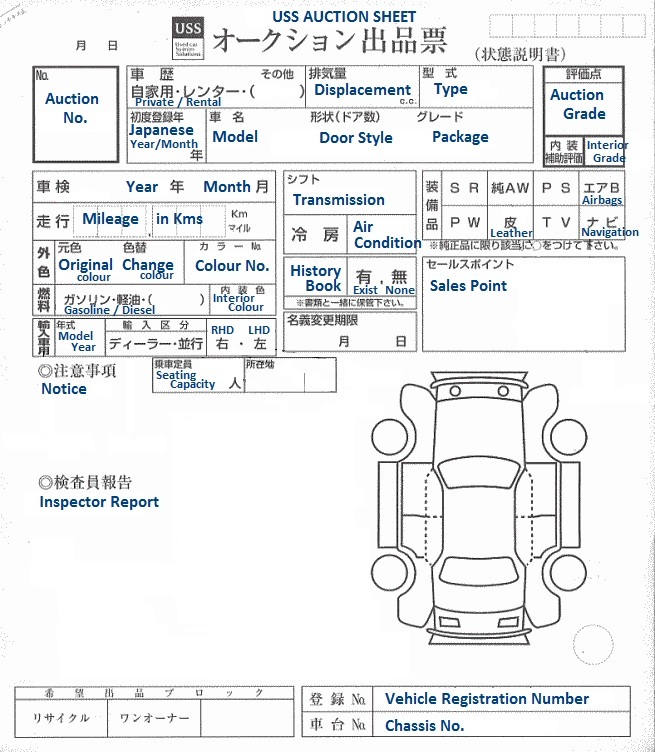 These inspection sheets have "Inspector's Notes" which are written in Japanese that can provide you a wealth of knowledge of the condition of the car. Try to have such notes, and possibly all information, translated.
Each auction house can have a different inspection sheet form. Differences are usually in the variations of formating and symbol usage, but there is also sometimes variation of what information is available.
Additionally, some auto auctions do not use inspection sheets - e.g. NAA (Nyussatus Auto Auction). You will find that an agent with good experience at inspecting vehicles is a must when using this kind of auto auction. This is often the case when cars are sold as-is.
Please Note:
Year of Manufacture:
Japanese use the Western Calendar (WC).
Conversion to the International Calendar (IC) is as follows: WC - 12 + 2000 = IC. Therefore, Western Calendar Year 18 means International Calendar 2006.
Odometer Reading:
Odometer reading is 99% genuine. When the auction inspectors suspect that the odometer has been modified, they mark with an " * "on the auction sheet.
We can also provide odometer inspections by private companies such as Jevic (www.jevic.co.jp) at the buyer's expense.
Exterior Grade:
Grade S
New car but registered
Grade 5+
Like new condition
Grade 4.5
Immaculate condition
Grade 4
Very good condition - minor dents or scratches
Grade 3.5
Good condition with noticeable dents or scratches
Grade 3
Fair condition - repair needed
R / A / 0 / RA
Accident-ed & Repaired
The most acceptable grades by most importers are Grade 3.5, 4 & 4.5. Body damages can be fixed either by us (at an additional cost) or by the importer.
Body Condition:
A
Scratch
U
Dent
B
Dent with other defects,deep scratch
W
Repaired trace
S
Rust
C
Corrosion
P
Paint required
XX
Replaced
X
Replacement required
G
Window screen Stone chip and /or scratch
1 - 4
E.g. U1 - This is a small dent (barely visible)
E.g. U4 - Very big dent - needs repair